Psychopedia is a collaborative wiki about the Psychonauts series that anyone can edit. It is the successor to Old Psychopedia.
It was created in September 2006 and currently has 704 articles.
Psychonauts follows Razputin, a young boy gifted with psychic abilities who runs away from the circus to try to sneak into a psychic summer camp. His goal is to become a Psychonaut, a secret government spy with psychic abilities. He finds that there is a sinister plot occurring at the camp that only he can stop. The game is centered on exploring the strange and imaginative minds of various characters that Raz encounters as a Psychonaut-in-training/"Psycadet" to help them overcome their fears or memories of their past, so as to gain their help and progress in the game.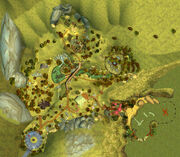 "
You were born with a special gift. But the people around you treat it like a curse. Your mother is afraid of you, and your father looks at you with shame in his eyes. Come to Whispering Rock Psychic Summer Camp, and you can show them all. Back home, your powers make you a loner, an outcast, a circus freak. But in this dojo, in this psychic dojo, they make you a hero.
"
Whispering Rock Psychic Summer Camp
is a remote government training facility where children with psychic powers are trained to become
Psychonauts
. The camp sits on the shores of
Lake Oblongata
, opposite the
Thorney Towers Home for the Disturbed
.
It is the main setting of
Psychonauts
.