This article features content that will be introduced or featured in Psychonauts 2 announced for release on August 25th, 2021. As such, this may refer to content that may be changed or removed in the to be released version of the game.
"
My name is Raz, and today is my first official day on the job.
"
–Raz during the opening cutscene of Psychonauts 2
Razputin "Raz" Aquato is the protagonist of the Psychonauts series. He is a ten year old[2] psychic. As of Psychonauts 2, he is a newly-recruited Psychonaut intern.
Appearance
Raz's outfit varies slightly from each game, but he is almost always seen wearing a few core items: A mahogany leather bag with his earned merit badges clipped on the front, an over-sized brown jacket over a blue-green turtleneck sweater, faded cuffed pants, large red goggles, a red and brown striped leather circus helmet, brown shoes, and umber leather gloves. His skin color is a warm yellow, his eyes are green, and his hair is burgundy. He is one of the few Psychonauts characters to have five fingers on each hand. He is four feet and four inches tall[3].
Personality
Raz is a young charismatic psychic determined to become an official recognized member of the Psychonauts. He is always eager to help others and tries to see the good in everyone he meets, displaying great patience and understanding with the minds he dives into. Being raised in a circus, he is a master on performing on stage. Raz is an accomplished circus Trapeze artist, vigorously trained in acrobatics. He can use these skills combined with his psychic powers for unique performances, such as using Mental Connection as a secondary means of traversal and combat. He has a willingness to learn, even from his mistakes.
Background
"
Born with psychic powers but forbidden to use them by his strict father, Raz ran away from home to train to be an international psychic secret agent. In other words, a Psychonaut. This has been his life's dream, and nothing is going to get in his way now. Not the threats of the camp bully, not the apathy of his cynical but cute girlfriend, not the hideous monster that comes out of the lake at night to eat children's brains-- nothing.
"
–Character blurb from the original Psychonauts website
Razputin was born and raised in the Aquato family circus, the middle child of five to Donatella Aquato and Augustus Aquato. He is the younger brother to Dion Aquato and Frazie Aquato and older brother to Queepie Aquato and Mirtala Aquato. He showed signs of having psychic powers at a young age, but his father insisted that he suppress his abilities and instead practice difficult acrobatics. Any attempt at using his budding psychic abilities earned the ire of his father, who reprimanded Raz for using them. The acrobatic training and punishments were so grueling that Raz became convinced that his father hated him - and therefore all psychics - for having psychic abilities, even though Raz suspected his father was a psychic as well. In actuality, Augustus truly cares for Raz, and did not hate his powers, and only wanted to protect Raz from the dangers of the psychic world. This was unknown to Raz at the time - considering his father rarely expressed his true feelings or explained why he detested psychics. Raz believed this hatred stemmed from the deadly curse placed upon their family many years ago.
The Hand of Galochio curse
Because of a bloody past feud, a family of psychics from a rival circus cursed every current and future member of Razputin's family to die in water. Whenever any Aquato family member enters water deeper than a few inches, a supernatural liquid hand attempts to grab them and pull them beneath the surface. Only Aquato family members are able to see this hand. The curse is named after the family that created it: the Galochios.
Arrival at Whispering Rock Psychic Summer Camp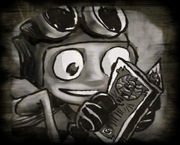 Sometime after a circus performance, an audience member handed ten year old Raz a pamphlet for Whispering Rock Psychic Summer Camp - a secret government camp designed to train young psychic children into becoming agents known as Psychonauts. Raz eagerly read the pamphlet after the show. Noticing, his disapproving father snatched up the pamphlet and tore it to pieces. Later that night, Raz stealthily ran away from the circus on the back of the Aquato's circus pony, eventually meeting a friendly lumberjack willing to drive him to the camp gates.
Story
Raz, having fled from the circus, tries to sneak into the camp, but is caught by the camp counselors. With some convincing, they agree to let him stay until his parents arrive. With more convincing, they allow him to take part in Coach Oleander's "Basic Braining" course, which he easily passes. Impressed, Agent Nein invites Raz to take part in an experiment at his underground laboratory to determine the extent of his abilities. Agent nein and Agent Vodello teach Raz Marksmanship and Levitation to aid the experiment.
During the experiment, Raz comes across a vision of Dr. Loboto, an insane ex-dentist, extracting camper Dogen Boole's brain, but is unable to intervene. Unbeknownst to Raz, his thoughts have accidentally been intertwined with the thoughts of Coach Oleander, which have been unintentionally broadcasted via the camp loudspeaker system. Raz eventually realizes that the vision was real after finding Dogen without a brain, but the camp counselors don't believe him.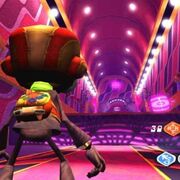 Raz discovers that Dr. Loboto is working on behalf of Coach Oleander, who intends to harvest the campers' brains to power an army of psychic death tanks. Lili and the camp counselors are soon abducted as well, and with both Agents Nein and Vodello missing, Raz takes it upon himself to infiltrate the abandoned insane asylum across the lake to rescue them. Agent Cruller gives him a piece of bacon which he can use to contact him at any time, and tasks him with retrieving the stolen brains so that he can return them to the campers. Raz frees the sea monster lungfish, Linda, from Coach Oleander's control and she takes him safely across the lake. At the asylum, Raz helps the inmates overcome their emotional struggles:
Boyd Cooper: A former security guard obsessed with a number of government conspiracy theories.
Fred Bonaparte: A former asylum orderly who believes he is possessed by the ghost of his ancestor, Napoleon Bonaparte.
Gloria Von Gouton: A former stage actress driven to depression by her mother's suicide.
Edgar Teglee: A painter whose girlfriend cheated on him in high school.
Once healed, they help Raz gain access to the upper levels of the asylum, where Loboto has set up his lab. With help from Raz, Mr. Pokeylope knocks Loboto out of the tower. Raz frees Lili and restores Agents Nein and Vodello's minds, allowing them to confront Coach Oleander. Boyd Cooper subsequently burns down the asylum, giving Coach Oleander time to transfer his brain to a giant tank. The giant tank then blasts everyone unconscious, except for Raz. Raz destroys the tank, but when he approaches the broken machine, it releases a cloud of sneezing powder, causing him to sneeze his brain out. Physically incapacitated, Raz uses his telekinesis to place his brain inside the tank, merging his mind with Oleander's.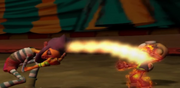 Inside the combined mindscape, Raz discovers that Coach Oleander's inner turmoil springs from his childhood fear of his father, being amplified by the Psitanium underneath Whispering Valley. Coach's mental image of his father, a raging cannibal, tries to kill them both. Razputin's mental image of his own father later appears and the two dads join forces. Suddenly, Raz's real father breaks into the mindscape to save Raz, having finally arrived at the camp. Raz's father uses his own psychic abilities to fix his son's tangled mind and helps Raz destroy Oleander's personal demons. At the camp's closing ceremony, Agent Cruller presents Raz with an official uniform and welcomes him into the Psychonauts. Raz prepares to leave camp with his father, but word arrives that the Grand Head of the Psychonauts—Lili's father, Truman Zanotto—has been kidnapped. The team, Raz and Lili included, fly off in the Psychonauts' jet to rescue him.
Psychonauts in the Rhombus of Ruin picks up immediately after Psychonauts. Using his Clairvoyance ability, Raz discovers Truman Zanotto is being held captive somewhere in the Rhombus of Ruin. The team travels into the Rhombus of Ruin, but the jet crashes into the ocean before they can land.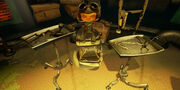 Raz awakens tied to a chair in the chamber where Zanotto is being held. Trapped in arm restraints with most of his powers suppressed by the debilitating nearby Psilirium deposit, Razputin has no other choice but to use Clairvoyance to jump into the body of a fish outside of the facility. While enjoying the ability to swim like a fish, Razputin observes both the massive chunk of Psilirium at the bottom of the sea floor and the huge number of sunken vehicles piled on top of it. Using his psychic abilities to explore the junk filled ocean, Raz eventually discovers that his friends are trapped in vicious hallucinations imposed by the Psilirium deposit below them.
Body hopping his way through the Rhombus of Ruin, Razputin finds Milla trapped inside a school bus. Milla believes she's on a bus packed full of children, which is stuck on collision course with a train that she is holding back using her powers. Razputin is able to snap her out of the trance using music therapy with a nearby radio. Unable to physically help Razputin, Milla lends him her psychic energy and boosts his suppressed psychokinesis so he can have more freedom to interact with the environment. Observing the lights on in a sunken nearby bomber plane, Razputin body hops his way over, where he observes Lili playing with several nuclear weapons, which she thinks are flowers.
Luckily, Lili still has her music box. Seeking to repeat his success with Milla, Razputin hops into the body of a nearby flea, and enters the music box in hopes of repairing it. Once repaired, it plays its tune. Snapped out of her hallucination, Lili uses some bombs to blow a hole out of the plane and into a neighboring train. Lili lends Razputin her remaining psi-energy for him to use Pyrokinesis to burn a path through the train for Lili. It quickly becomes apparent that Lili can't go any farther than the caboose. Body hopping to Lili's new pet rat, Razputin goes on his own and soon discovers that the fish guards surrounding the facility are all humanoid fish. Eventually, Raz comes across agent Nein, whose hallucination has led him to believe their fishy captors are in fact benevolent alien visitors. This hallucination is further fueled by the fact he is on a replica UFO.
However, once a conveniently placed record snaps him back to his senses, he concludes that the alien ship is little more than an Earth-made reproduction designed to scare the general population during the cold war. Hopping into the body of a whale, Razputin makes his way to a sunken cruise ship where Coach Oleander is held captive. He finds the coach is worse off than of them all, for he's putting on a full blown concert in his hallucination, and music therapy would be useless. After destroying all of the coach's musical equipment, Razputin resorts to breaking a window, pouring cold water all over Coach in the process. With the cruise ship now flooded, Razputin levitates Oleander into a mermaid costume to help him swim.
After freeing his team from their hallucinations, Raz is pulled back into the chamber by Dr. Loboto, the insane ex-dentist from the first game, and Zanotto's kidnapper. By using a Psycho-Portal given to him by Oleander, Raz enters Loboto's mind. There Razputin finds himself tied to the mast of a ship, floating adrift inside of a bath tub the size of an ocean. According to the ships captain, they're under attack by a giant sea monster, who emerges from the ocean almost immediately. After a short but intense fight with the Monster, Razputin is able to make it spit out a memory vault which he then opens and body hops inside.
Now inside the memory vault, Razputin watches the horrible tale of Loboto's parents who, upon realizing that they had given birth to a psychic, sent him off to have his powers forcibly removed via a lobotomy. Raz finds Loboto's literal moral compass inside of his repressed memories and brings it back to the ship's captain, partially curing the mad dentist of his insanity. After Raz exits Loboto's mind, Loboto seems to have a change of heart, but instead leaves Raz and the others and floods the base. They escape from the base with Truman (and a stowaway Loboto), and the game ends with Lili telling her father about their adventures, and Truman shouting in disbelief that Lili has a boyfriend.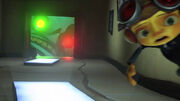 The game will pick up after the conclusion of Psychonauts in the Rhombus of Ruin, with Raz having assisted Sasha Nein and Milla Vodello in rescuing head Psychonaut Truman Zanotto — a mission begun at the end of Psychonauts. Following Zanotto's rescue, the team returns to Psychonaut Headquarters, where Raz discovers that the organization is not all that it seemed. In Zanotto's absence, the Psychonauts organization had been changed by its second-in-command, and psychic research was directed away from peacekeeping efforts towards more unorthodox studies including necromancy.
Tim Schafer, director of the Psychonauts series, said that some of the ideas introduced in Psychonauts, such as Raz's family, their history, and the curse that continues to affect them, would be further explored in the sequel. Raz will also come to understand what the term "girlfriend" means.
Behind the Scenes
According to an interview with creator Tim Schafer, "Raz" was the nickname of one of the game's animators, Razmig Mavlian. Schafer "stole" the name, and expanded it to "Rasputin", which was later changed to "Razputin" so that it could be trademarked.
Raz was originally conceptualized as D'Artagnan, referred to as D'Art for short. He was completely redesigned after Double Fine completed their first playable version of Psychonauts and realized he didn't fit their idea of the game's protagonist and was too "odd-looking compared to all the other odd characters"[4] . Some other name possibilities for Raz included: D'artagan, Chops, Angus, Beat, Dare, Otto, Bolt, Finn, Li-Po.
Psychonauts
Raz starts the game with the ability to strike nearby objects with a large psychic hand and to perform a double jump using a bubble of mental energy. While it is not a playable power, Raz also has some degree of telepathic and mind reading abilities which he demonstrates by reading Lili's mind during a cutscene. He also has considerable psychic defenses that not even professional Psychonauts can penetrate, despite his young age and lack of formal training.
Gameplay Powers
During his stay at Whispering Rock, Raz learns the following psychic abilities:
Clairvoyance: The ability to see others' perspectives through their own eyes, which often shows Raz how others perceive him. Raz gains this badge in the Milkman Conspiracy after taking it from Boyd's refrigerator.
Confusion: The ability to cloud others' minds with mental grenades, often leading them to attack other nearby beings. Raz gains this badge in Black Velvetopia from Dingo Inflagrante.
Invisibility: The ability to become invisible to other creatures. Raz learns this at rank 30.
Levitation: The ability to levitate on a psychic ball that allows Raz to move more quickly, Bubble Bounce in the air, and PSI Float during a fall. Raz learns this early on from Milla Vodello.
Marksmanship: The ability to channel large amounts of aggression into a damaging psi-blast of focused energy. Raz learns this early on from Sasha Nein.
Pyrokinesis: The ability to focus psychic power so that objects or creatures burst into flame. Raz learns this at rank 10.
Shield: The ability to project a mental shield that temporarily protects Raz from damage and, when upgraded, reflects it back to the attacker. Raz gains this badge in Lungfishopolis from a Lungfish Zealot.
Telekinesis: The ability to mentally move an object with enough force to inflict significant damage if it strikes another object. Raz learns this when he reaches rank 20.
Non-Selectable Powers
Psychonauts in the Rhombus of Ruin
Raz starts the game with his previous psychic knowledge from Psychonauts. However, the player cannot use all of the powers from the previous game. Powers the player is not able to use are Confusion, Invisibility, Shield, and Levitation.
Returning Powers
The powers that Raz can use throughout Rhombus of Ruin include:
Clairvoyance: Raz can use clairvoyance to jump between the perspectives of several minds, this is used as the primary "transportation" mechanic.
Telekinesis: Raz can use telekinesis to push or pull object in several directions, or to make simple interactions with buttons, levers, etc.
Pyrokinesis: Raz can set certain objects on fire to help him solve puzzles.
PSI-Blast: Raz can shoot various objects to help him solve puzzles.
Other Powers
Raz does not learn any knew psychic powers in Psychonauts in the Rhombus of Ruin, but he does show off a previously unknown ability:
Zoolingualism: The ability to speak to animals. Raz can communicate with Lili's pet rat, Harold.
Astral projection: Raz astral projects into Loboto's mind using a psycho portal.
Hydrokinesis: Raz is subconsciously creating the Hand of Galochio out of his fear of water.
Psychonauts 2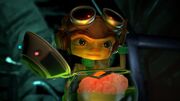 Raz starts the game with his previous psychic knowledge from Psychonauts and Psychonauts in the Rhombus of Ruin. However, the player cannot use all of the powers from the previous games. Rather than automatically upgrading powers when leveling up, Raz can spend Intern Credits on upgrades for his PSI-Powers.
Returning Powers
Telekinesis: Raz can now move while using TK to hold or throw an object.
PSI-Blast: Raz can now fire PSI-Blasts in quicker succession.
Pyrokinesis: Raz can now use Pyrokinesis in an area-of-effect around him, which can be charged up to a certain radius.
Levitation: If enabled in the settings, the player can use the jump key a 3rd time to trigger the PSI-Float, or to pull the ball down under him.
Clairvoyance: Clairvoyance can now be used to reveal hidden items or objectives.
New Powers
Mental Connection: Mental connection is the ability to control someone else's thoughts. Raz learns mental connection from Hollis Forsythe.
Time Bubble: The ability to slow down platforms or enemies. Raz learns this in The Mote of Light's Level.
Projection: Projection is the ability to create an archetype of one's self. Raz learns projection from the teacher archetype of Cassie O'pia.
Non-Selectable Powers
Astral Projection: Raz can astral project into minds using a psycho portal or a brain tumbler.
Hydrokinesis: Raz is still subconsciously creating the Hand of Galochio out of his fear of water.
Relationships
Augustus is Raz's father. He loves Razputin very much but can appear overbearing in his attempts to protect him from harm. At the end of Psychonauts, Raz proves to his father that he is a mature individual capable of taking care of himself. More information will be added when Psychonauts 2 is released.
Donatella is Raz's mother. She loves Razputin very much, but like Augustus can appear overbearing in her attempts to keep him safe. Not much is known about her. More information will be added upon the game's release.
The Whispering Rock campers don't pay Raz much attention, excluding Lili Zanotto. Some are friendly to Raz, some are ambivalent, and some are mean.
Mirtala is Raz's younger sister. Not much is known about her. More information will be added upon the release of Psychonauts 2.
Queepie is Raz's younger brother. Not much is known about him. More information will be added upon the release of Psychonauts 2.
Dion is Raz's older brother. Not much is known about him. More information will be added upon the release of Psychonauts 2.
Frazie is Raz's older sister. Not much is known about her. More information will be added upon the release of Psychonauts 2.
Nona is Raz's grandmother. More information will be added upon the release of Psychonauts 2.
Sasha is Raz's mentor. He views Raz as a younger version of himself and wants to aid him in achieving his dreams of becoming a Psychonaut.
Morceau is Raz's mentor turned enemy, then turned friend again after his redemption. Morceau frequently refers to Raz as "soldier".
Milla is Raz's mentor. She is very kind toward Raz and sees him as a child that needs protection.
Caligosto is Raz's enemy turned friend. Raz becomes sympathetic toward him after learning about his traumatic past. Raz acts reassuring toward Loboto in a gameplay demo for Psychonauts 2, saying "we don't want to hurt you" during an interrogation scene. More information will be added upon the release of Psychonauts 2.
Lili is Raz's girlfriend. She loves him very much. She had eyes for him since the moment he literally dropped into camp, despite her subsequent attempts at being aloof and standoffish. It's also thanks to him that her excitement for the Psychonauts was rekindled.
Raz helped Boyd break free from the Coach's mind control. Raz doesn't actually get the chance to help him overcome his paranoia, and Boyd doesn't pay much attention to Raz after the Milkman Conspiracy.
"
No Bull?
"
–Raz, making light of Edgar's former anger issues.
Edgar is Raz's friend. Raz helped Edgar overcome his anger issues, and they are even able to joke about it afterwards.
Fred is Raz's friend. Raz helped Fred overcome his personality disorder and crushing fear of failure.
Gloria is Raz's friend. He helped her overcome her bipolar disorder.
Sheegor is Raz's friend. Sheegor sees Raz as a saint who rescued her from Dr. Caligosto Loboto.
Linda is Raz's friend. She initially attempts to harm him while under the mind control of Coach Oleander, but they become "best friends" after she is freed, giving him free rides to travel between Whispering Rock and Thorney Towers.
Ford is Raz's mentor. Ford is eager to teach him how to become a Psychonaut. He signs off on Raz's earned merit badges in Psychonauts. Raz enters Ford's mind in several instances in Psychonauts 2, presumably to try and help him regain some of his sanity. More information will be added upon the game's release.
Hollis is Raz's mentor. She signs off on Raz's earned merit badges in Psychonauts 2. Raz accidentally triggers a chain reaction of events that lead to a change in Hollis' worldview, which he later fixes. Not much is known about her. More information will be added upon the game's release.
Norma is Raz's fellow Psychonaut intern. From a Psychonauts 2 trailer, it appears Norma doesn't like Raz. More information will be added upon the game's release.
Lizzie is Raz's fellow Psychonaut intern. From a Psychonauts 2 trailer, it appears Lizzie doesn't like Raz. More information will be added upon the game's release.
Adam is Raz's fellow Psychonaut intern. From a Psychonauts 2 trailer, it appears Adam doesn't like Raz. More information will be added upon the game's release.
Gisu is Raz's fellow Psychonaut intern. From a Psychonauts 2 trailer, it appears Gisu doesn't like Raz. More information will be added upon the game's release.
Sam is Raz's fellow Psychonaut intern. From a Psychonauts 2 trailer, it appears Sam doesn't like Raz. More information will be added upon the game's release.
Helmut is Raz's friend, and the first actual person he's met for about 20 years. Raz helps him rediscover his lost memories and identity. More information will be added when Psychonauts 2 is released.
Otto is at least aware of Raz's presence in Psychonauts' Headquarters, especially whenever he comes to buy something at the Otto-Matic Shop. It can be presumed that since he is one of the Psychic Six, Otto could serve as a mentor, or a friend. More information will be added when Psychonauts 2 is released.
Trivia
Raz is one of the few characters in the Psychonauts series to have five fingers on each hand whilst most other characters in the game have four.
In the beginning of the game when Oleander attempts to probe Razputin's mind, he states that Razputin's name "starts with a D", referring to D'artagan, an early version of the protagonist scrapped during production.
In Razputin's Memory Vault, it's shown that he escaped the circus by riding on the back of the "World's Smallest Pony".
Raz is the only major character in Psychonauts whose surname is never explicitly mentioned. However, the last level features a poster depicting the name "Aquato" and a group of acrobats who resemble Raz and his family.

The Aquato surname was confirmed by his Steam Trading Card, as well as in the launch trailer for Psychonauts in the Rhombus of Ruin.
His family's last name, Aquato, means water in Latin.

In Alice: Madness Returns, the sequel to American McGee's Alice, a cavern holds the skeletal remains of Raz sitting in an armchair.

Raz is also referenced in Brütal Legend, a later title by Tim Shafer. In the intro, the guitarist of the "heavy metal" band Kabbage Boy is seen doing Raz''s signature victory dance, as a statue bust, on a car paint decal, and a headbanger named Jack the Lift-Op wears Raz's goggles. These two characters are both voiced by Richard Steven Horvitz, who voices Raz.

Raz is referenced again in the Hammer of Infinite Fate map pack, where the player can chisel his head into Mount Rockmore. Doing this four times will unlock an achievement/trophy.

Raz is unofficially referenced in A Hat In Time. One of his appearances happens to be as a dweller-mask drawing in the attic of Vanessa's Manor.
Razputin is a playable character in Bit Trip Runner 2: Future Legend of Rhythm Alien, as part of the 'Good Friends Character Bundle' DLC. The game apparently uses his original model from Psychonauts.
Raz is the only other character in Psychonauts to have other texture maps besides the basic color map or mask map. This makes him the most technically detailed character in the game.
Raz intentionally dresses similarly to Sasha Nein in Psychonauts 2.[6]
Raz stole his signature taunt from Bobby Zilch, who showed it off after he kicked Raz off a platform in Basic Braining.
In the game's audio files, Raz can be heard introducing himself as "Angus", "Dare", and "Finn".  It is unknown if these were other potential names for the protagonist or if there were merely added for humor purposes.
In an MTV2 short, Raz can be seen changing the TV channel with his mind.
Raz's telekinesis PSI color is orange in Psychonauts and Psychonauts 2, but purple in Psychonauts in the Rhombus of Ruin.
Raz is an avid comic book reader, often referencing comic book series such as "Psychic Detective Tales" during several situations.
According to his old Myspace account, Raz is a capricorn.
Raz puts his goggles on whenever he travels into a mental world.
Unlike all other characters, Raz only gets one Memory Vault, "Razputin's Getaway".
Contrary to the popular stereotype, Raz runs away from the circus to join a summer camp.
Raz is talented cartoonist.[7]
Gallery
Concept Art and Promotional Materials
Psychonauts
Screenshots
Art Assets
Textures and Model Screenshots
Psychonauts in the Rhombus of Ruin
Screenshots
Art Assets
Textures and Model Screenshots
Psychonauts 2
Screenshots
Other
References/Notes