"
You were born with a special gift. But the people around you treat it like a curse. Your mother is afraid of you, and your father looks at you with shame in his eyes. Come to Whispering Rock Psychic Summer Camp, and you can show them all. Back home, your powers make you a loner, an outcast, a circus freak. But in this dojo, in this psychic dojo, they make you a hero.
"
–Written by Coach Oleander, recited by Razputin Aquato
Whispering Rock Psychic Summer Camp is a remote government training facility where children with psychic abilities are trained to become Psychonauts. The camp sits directly above a large Psitanium deposit by the shores of Lake Oblongata, opposite of Thorney Towers Home for the Disturbed. It is the main setting of Psychonauts.
History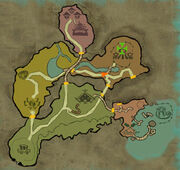 The history of Whispering Rock can be read in the center of the Main Campgrounds' parking lot, where it is inscribed into a large tree-log:
500 years ago: An enormous, Psitanium-bearing meteorite strikes the Earth, leaving a giant crater. (year 1480)
200 years ago: Native inhabitants begin making arrowheads out of the Psitanium, which they call by the name 'Whispering Rock'. This is a rough English translation. (year 1780)
100 Years Ago: Prospectors and settlers take over the area, naming their boom town, 'Shaky Claim.' (year 1880)
99 Years Ago: First case of 'Paranormal Hysteria' diagnosed in Shaky Claim. (1881)
75 Years Ago: Houston Thorney builds his Home for the Demented to deal with the insanity epidemic. (year 1905)
60 Years Ago: More residents in the Asylum than in the town. Houston Thorney commits suicide by throwing himself from the tower. (year 1920)
55 Years Ago: Asylum closes. Last valley residents paid to leave by the federal government, who flood the crater to prevent further habitation. Lake Oblongata is created. (year 1925)
5 Years Ago: Whispering Rock Psychic Summer Camp founded to nurture and train future Psychonauts. (year 1975)
The timeline also includes an extra note left by Nils Lutefisk:
Function
Described by Sasha Nein as a "remote government training facility", the purpose of the camp is to train young psychics to become psychic secret-agents known as Psychonauts. Under the guise of an ordinary summer camp, the agents acting as camp staff engage campers to help them to unlock, understand, explore and advance their psychic powers, as well as provide a safe haven away from the ridicule and suffering that often comes with possession of these abilities.
Camp Residents
Camp Staff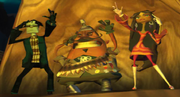 Whispering rock is run and staffed by agents of the Psychonauts organization.
The camp staff featured in Psychonauts are:
Campers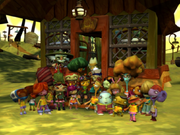 The Campers of Whispering Rock Psychic Summer Camp are children between the ages of seven and thirteen, many from various locations within the US, but also some hailing from Canada, Russia, and in one case, possibly even outer space. Each camper is assigned a Psycadet rank depending on their psychic abilities, and participates in camp activities in order to develop and hone new powers which are represented by Merit Badges. For the vast majority of time, however, the campers are left free to do as they please.
Locations
Gallery
Psychonauts
Screenshots
Textures and art assets
Psychonauts 2 (engine only)
Community content is available under
CC-BY-SA
unless otherwise noted.